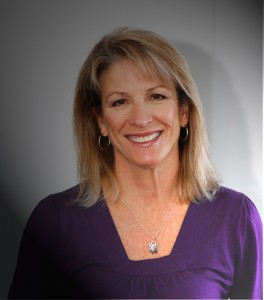 Joane Chamberiain, PT, MOMT (Master's Orthopedic Manual Therapy) is the founder of Challenge Physical Therapy, Inc. in Thousand Oaks, California, the creator of "The Missing Link to Neck and Back Pain Relief" program (available as downloadable video), and lecturer / educator at hospitals, foundations and physical therapy clinics.
Joane came to the valuable discovery of how pelvic dysfunctions are a major factor in causing spinal pain through her own personal experience with back pain. She discovered how pelvic issues can be the underlying cause of neck, mid back and low back pain as well as many other potentially debilitating physical conditions. Her training in orthopedics and manual therapy, combined with her knowledge of treating the pelvis and spine, makes her an expert at eliminating pain and dysfunction throughout her patient's bodies. She applies her expertise in orthopedics and manual techniques to treat all of the joints and pain throughout the body. Joane's unique approach empowers patients to reduce their pain and rid their limitations, allowing them to resume the activities they love.
In 1981 Joane earned her Bachelor's Degree in physical therapy from Mount St. Mary's College in Los Angeles, California, and trained with pelvic specialist, Dr. Alec Thompson through 1988. She completed her Master's Degree in Orthopedic Manual Therapy at the Ola Grimsby Institute, also in Los Angeles, in 1995.
After working as a physical therapist for over 20 years in the areas of orthopedic out-patient clinics, rehab, skilled nursing, home health, and acute care hospitals, Joane opened Challenge Physical Therapy in Thousand Oaks, California in 2000. Bringing the highest quality, most effective, cutting-edge treatments and empowering her patients with the ability to create a pain-free life are the hallmarks of her practice.
Joane empowers patients through her instructional videos "The Missing Link to Neck and Back Pain Relief.